Alumni Spotlight: Melissa Bonilla '98
Melissa Bonilla '98 is a professional singer-songwriter and recording artist. Born in Queens, NY, Melissa was the youngest of a Latino family and grew up in a small suburban town on Long Island. She was raised by a large family of musicians on her mother's side. Her late maternal grandfather, Nicasio Martinez, was an accomplished singer in Puerto Rico and New York from the 1940s to the 60s, performing with world-renowned orchestras of that era. Her mother and relatives were vocalists and musicians as well.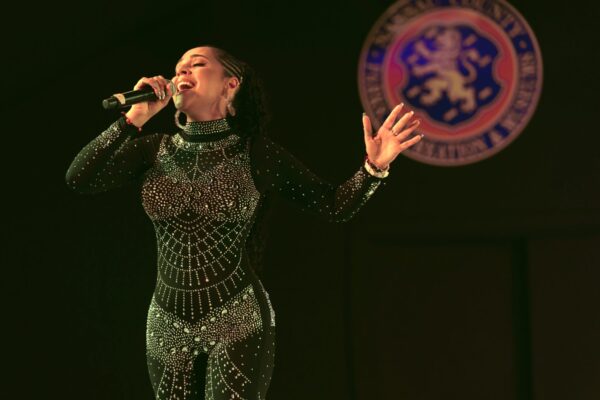 Melissa's musical style was influenced by all the colorful elements of her youth. Her background is a variety of Latin sounds, pop, rock, R&B, freestyle, house, EDM, and metal. Staying immersed in her culture and being exposed to new styles of sound played a big role in her upbringing. As a result, she has an eclectic mix of styles that she brings to her music. In 2006, she released a single with Sony Music, a remake duet of salsa classic song "Ven Devorame Otra Vez," produced by Sergio George, an iconic producer of contemporary salsa music. The song charted on the Billboards Tropical Top List.
A few years later, she faced health challenges and a cancer journey that placed her life goals on hold. After a long hiatus from the industry, she has found her way back into the studio making more music and performing live again. She currently works in the nonprofit sector, using her platform to share music and raise awareness for the many causes she advocates for: the cancer community, grieving children, and music as a modality for therapy and healing. "It's my life's purpose now to serve others and share my survivorship to inspire and support others. There's no greater honor than to connect with the community through the power of music."
In spring 2022, she released her newest single with CMG music label, titled "Baby I'ma Want You." In June 2022, she performed at the National Puerto Rican Day Parade, and was featured on Primetime Television ABC7 as "Artist of the Year."
Melissa welcomes Firebirds to learn more about her music by visiting www.melissabonillaofficial.com.
What inspired you to pursue a career in music?
I started taking piano lessons at the age of 7, and fell in love with playing, composing, and writing songs. Music was my therapy. I was the only girl and the youngest of my siblings, so I spent a lot of time alone bonding with my music, and working out all my emotions by singing and accompanying myself on the piano. It was a natural fit for me.
How do you think your time at Kellenberg Memorial helped to prepare you for your success in your professional pursuits?
Circumstances were challenging at home. It was during my junior year at Kellenberg that the trajectory of my life changed. With the relentless encouragement of my friends and KMHS faculty, in that one year, I joined the piano club, jazz band, chorus, and drama. My actual "self" transformed and my confidence and self-image started to bloom.
Do you have any advice for current students or young alumni who are interested in pursuing a career in music?
My biggest advice to students and the youth is: never give up on your art or your passion! Whether you choose to pursue it as a career or as a hobby, always find some time to feed your soul with what makes you happy.
Do you have any favorite teachers, coaches, or club moderators from your time at Kellenberg Memorial?
Yes! I desperately needed mentorship during my high school years and my teachers and my KMHS friends were a family to me. They saved me. To my teachers at KMHS: Mr. and Mrs. Dugal, Mr. Blanton, and Mr. Catania, I am forever grateful for all the support and love you gave me. And a special thank you to Mr. Basile!!!